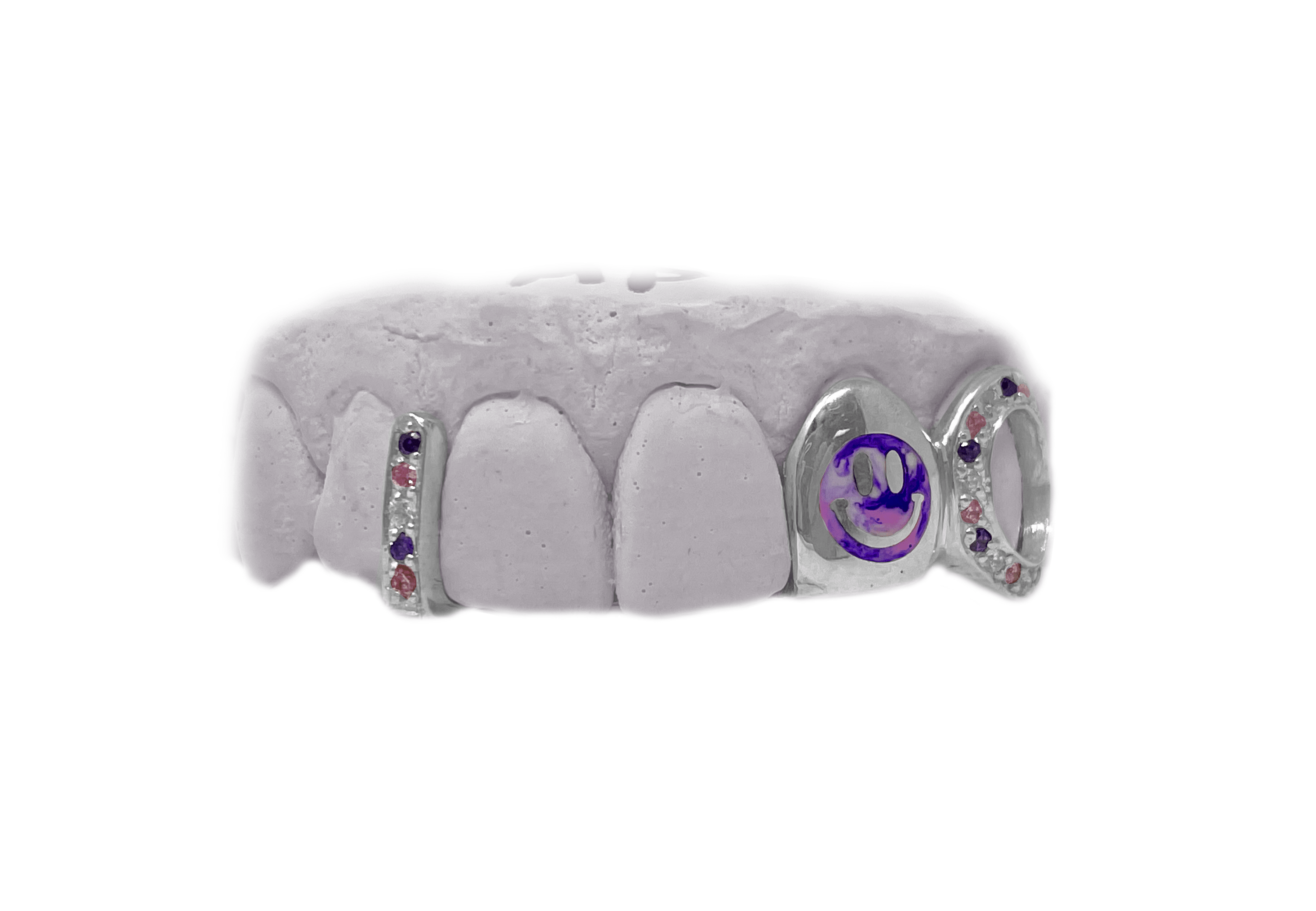 Tie Dye Smiley Enamel Tooth w Diamond Gap Grillz + Open Face Fang w Amethyst & Pink Sapphires
Description: Amethyst, Pink Sapphire, and Diamond Gap Grillz + Open Face Tooth w Tie Dye Enamel Smiley Face Tooth
Category: Grillz
Grillz Type: Diamond Grillz Sapphire Grillz Amethyst Grillz Enamel Grillz
Metal Purity: 10K Gold Grillz
Gold Color: White Gold Grillz Yellow Gold Grillz Rose Gold Grillz

Stone Colors:  White Diamonds, Pink Sapphires, Amethyst
Grillz Style: Gap Grillz, Custom Designed Grillz, Combo Grillz 
Placement: Top Grillz
Authentication: 100% Authentic Purity Guarantee - We offer a 100% Authenticity Certificate approved by a 3rd party jewelry appraiser for all our products.
Shipping Policy: Free Mold Kits (learn more)
Guarantees:

We offer a Certificate of Authenticity, guaranteeing that your grillz are made to the exact specifics of your order - including gold purity and diamond quality
Proper Fitting Guarantee - If it doesn't fit, send it back and we will remake your grillz at no charge
Disclaimer: After you place your order, a Luxe Grillz representative will contact you to clarify which teeth you would like to have this custom set of grillz made for.
A Personal Message from Our CEO & Founder:
By: Alexander Peck 
Our Diamond Grillz
At Luxe Grillz, we source all of our diamonds from the most trusted diamond distributors in the entire world. We have close relationships with precious gemstone dealers in Israel, Australia, and South America who supply us with the most pristine diamonds and gemstones that money can buy.

The world's most talented group of grillz manufacturers and diamond setters work together to provide you with the most pristine set of custom diamond grillz in the industry. 
We fully insure all of our diamond teeth sets and if for some reason they do not fit the way you want them to, we will remake your grillz for free.
After you place your order, we will send you a free mold kit so you can take your own impression. All of our mold kits come equipped with three sets of mouth trays and molding materials. Our mold kits also include thorough step-by-step instructions to help walk you through the self-molding process.
Please do not hesitate to ask us any questions that you may have regarding our custom grillz or the molding process.
Guaranteed 100% Authentic - Luxe Grillz offers real solid gold grillz featuring genuine Diamonds and alternative rare Gemstones
Proper Fitting Guarantee - If it doesn't fit, send it back and we will remake your grillz at no charge
Our gold grillz are custom made using solid 10K, 14K, 18K, 22K, and 24K Gold. All of our diamond grillz are priced based on the "average-sized" tooth. For larger teeth, we will use more stones and the price may increase accordingly. Please allow 5-10 business days for manufacturing of all custom grillz. If you would like to customize these grillz, please call/text (310) 592-9903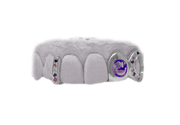 Tie Dye Smiley Enamel Tooth w Diamond Gap Grillz + Open Face Fang w Amethyst & Pink Sapphires